Posted by Dr Ubaid Khan, MD on Nov 29th 2021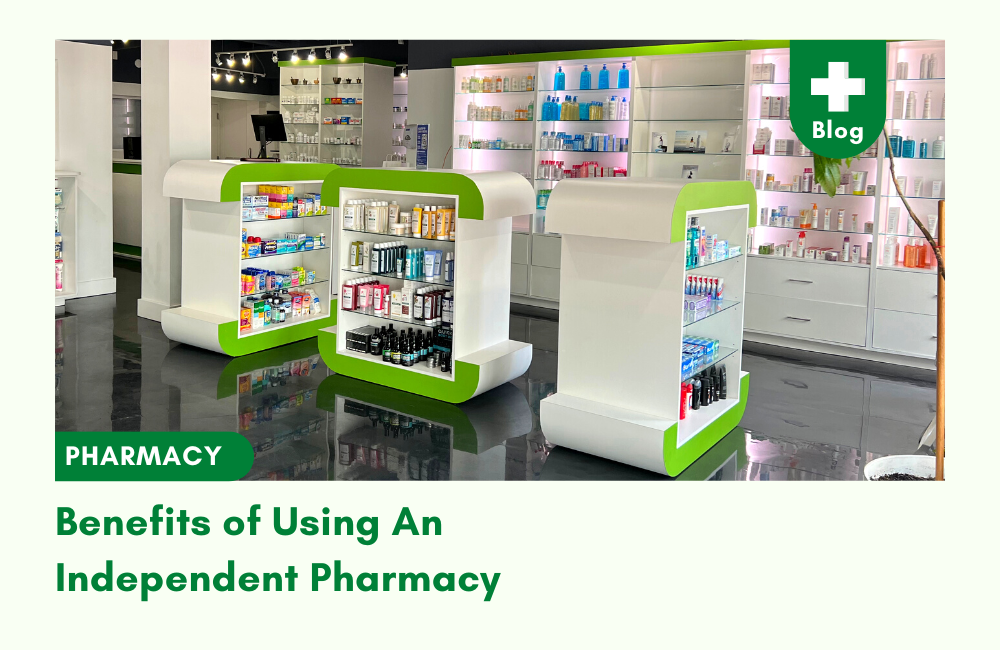 Even though Chain pharmacies were previously preferred in the past, independent pharmacies are now on the rise and are now preferred by many over chain pharmacies due to their numerous benefits.
This can be seen by the fact that at least 42% of all the community pharmacists in the United States work as Independent Pharmacists, and these pharmacies account for at least 1.4 billion prescriptions filled every year. (1)
What Is An Independent Pharmacy?
Independent Pharmacies are usually owned and operated by private business owners under the supervision of specialized pharmacists. Unlike chain pharmacies which are present at multiple locations as a franchisee of the same brand, Independent pharmacies are usually present at limited locations.
Independent pharmacies allow the pharmacist in charge to operate their pharmacy according to their preference and set out orders that would benefit their own customers rather than following a set of rules laid down by companies that operate chain pharmacies.
These independent pharmacies usually also include in-house compounding, which is found to be present in at least 79% of Independent pharmacies, according to the National Community Pharmacists Association Members Report. (2)
Advantages of Independent Pharmacies Over Chain Pharmacies in Miami Beach, Florida
Better Care For Patients
Independent pharmacies usually act as the local go-to pharmacies for the residents of an area. This means that not only are the residents completely familiarized with the owners of the pharmacy but the pharmacist themselves are familiarized with the regular consumers and customers.
Mutual Trust
This allows the development of mutual trust and comfort between the seller and the consumer, leader to higher confidence levels of the individuals as they go to the pharmacy to purchase their medicines.
Familiarity with Patient Medical History
Familiarity with the pharmacist and the buyer also allows the pharmacist to be aware of the patient's medical and drug history and can advise them against any sudden changes in their dosage and medicine. They may also suggest to their buyers about medicines that might not potentially suit them and let them know of the better alternatives.
The Independent Pharmacies were also compared to chain pharmacies in a study which showed Independent pharmacies to have slightly better results than chain pharmacies at taking patient history before supplying medicines and regarding the overall management of the disease. (3)
Less Waiting Times
Since Independent Pharmacies are more likely to have their regular customers be the locals and residents residing in nearby locations, it is more catered towards its customers and makes them a priority. While chain pharmacies are often highly commercialized and are stuffed with people from all over the city, leading to longer waiting times – the same is not the case for Independent Pharmacies.
Hence an individual is more likely to be able to go to immediately get their medicine order at an independent pharmacy by either having the option of contacting the pharmacist of their arrival beforehand through online portals or a phone call.
Greater Convenience
Unlike Chain Pharmacies which have a wide variety of clientele and often do not have the time to supply their customers individualized services and the option of customized orders, Independent Pharmacies are more loyal to their clientele and prioritizes their ease and comfort above all.
Independent Pharmacies now offer their clients a number of convenience factors like home delivery of their medications, quick pick up, and even custom dosage options. Moreover, these pharmacies are more flexible towards their customers and are more likely to go out of their way to support and help their customers.
Greater Patient Satisfaction
Studies have shown that when it comes to pharmacies, there are a number of factors that affect one's satisfaction level. These factors include the location of the pharmacy is convenient, prices of the medication, access to medications, and customer service of the pharmacist, and discussion of health-related concerns. (4)
By offering a patient-centric approach, Independent pharmacies are often able to provide their customers with greater satisfaction by catering to all the above-mentioned satisfaction factors. Since these pharmacies are usually closer to one's house, they are usually more convenient for the patient as compared to a chain pharmacy.
Moreover, since independent pharmacies are more catered to their patient's needs, they are more likely to order a specific medication for the patient who is not available elsewhere and allow them better access to prescribed medications.
Pure Pharmacy | The Best Independent Pharmacy in Miami Beach, Florida
Pure pharmacy is an excellent example of a patient-centric, advanced, and highly resourceful Independent pharmacy in Miami Beach, Florida. By offering its customers free pickup and delivery and highly needed services Covid Testing, Covid Vaccine, Flu shots, Prescriptions, Supplements, Cosmetics, and VitaSquad services - the pharmacy takes patient convenience to another level.
References:
1.Facts & Resources, Industry Facts at a Glance. National Association of Chain Drug Stores. Available at: http://www.nacds.org/wmspage.cfm?parm1=507. Accessed November 24, 2008
2.National Community Pharmacists Association. About NCPA. Available at: http://www.ncpanet.org/aboutncpa/ipt.php. Accessed May 4, 2009.
3.Miller R, Goodman C. Do chain pharmacies perform better than independent pharmacies? Evidence from a standardised patient study of the management of childhood diarrhoea and suspected tuberculosis in urban India. BMJ Glob Health. 2017;2(3):e000457. Published 2017 Sep 22. doi:10.1136/bmjgh-2017-000457
4.Bratkowska K, Religioni U, Krysiński J, Merks P. Quality of Pharmaceutical Services in Independent Pharmacies and Pharmacy Chains in Poland from the Patient Perspective. Patient Prefer Adherence. 2020;14:2459-2467. Published 2020 Dec 14. doi:10.2147/PPA.S284014